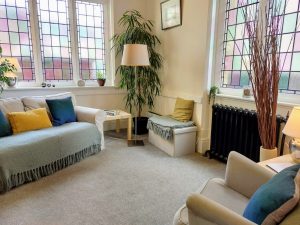 ECS COUNSELLING: IN PERSON/ONLINE/BY PHONE
If you wish to book an initial consultation with the Epsom Counselling Service, please call the service manager, Tracey Pennington on 07719 346 657 or complete the Contact Us form.
The ECS and church premises, adhere to govt. guidelines and BACP regulations regarding Covid19 health and safety. This includes adherence to track and trace obligations should we be contacted by the NHS. Please be aware of possible implications for you, regarding confidentiality. This issue, as well as any other concerns, will be discussed at the initial inquiry and consultation.
The Epsom Counselling Service (ECS) provides individual, couples, and child/adolescent counselling and therapy in Epsom. We opened our doors in 1999 to offer affordable, easily accessible therapy in a confidential, and safe, environment. Additionally, since summer 2020, we offer the choice of in-person or video/phone link (subject to initial consultation) to talk to your counsellor.
Our rooms are situated within the Methodist Church complex in Ashley Road. Our approach and ethics are tailored to all, and not dependent on any religious faith.
We continue to offer individual counselling at the heart of our service.  Additionally, we offer psychotherapeutic help, looking deeper at issues that may come to light. 
Whilst the ECS  is based in Epsom, clients visit us from all around Surrey and South West London. Towns include Kingston, Sutton, Esher, Ewell, Cobham, Leatherhead, Ashtead, Redhill, Reigate and Dorking  Banstead, Chessington. Video/phone sessions can be conducted from anywhere in the world with smartphone access.
Clients seek counselling and therapy for a wide range of difficulties some of which are listed below:
Depression and Low Mood
Bereavement and Loss
Stress/Anger/Anxiety
Separation/Divorce
Personal Development
Choices and Transitions
Parents

Relationship Difficulties
Love and Intimacy
Sexual Expression
Self Esteem / Self Worth
Feeling Unfulfilled
Unsure of Life's Meaning
Parenting
As part of the wider range, at the formal end of the services available, ECS also offers couples counselling, child/adolescent counselling and life skills coaching. These are only conducted in-person.
About Us
The counselling team is led by experienced, qualified, professional practitioners who are accredited members of the UK's leading counselling regulatory body, the British Association for Counsellors and Psychotherapists (BACP).
The team members are qualified, or in their last years of training to degree level on a BACP or UKCP accredited course. The Epsom Counselling Service has links with a number of leading Counselling and Psychotherapy training institutions and all team members receive supervision from experienced, senior BACP or UKCP accredited practitioners.
The Epsom Counselling Service is pleased to be working in association with East Surrey NHS through their Primary Care service, First Steps.
What's New?
Summer 2022
CHILD/ADOLESCENT COUNSELLING: The Epsom Counselling Service can now offer counselling for younger people (aged eleven to seventeen).  Please go to the dedicated webpage for full details.
WORKSHOP for practitioners (in training and qualified) coming in the Autumn. A CPD certificate for six hours will be supplied for attendees on this one day training around the existential themes of responsibility and accountability.  Go to seminar/workshop page for more details
VIDEO/PHONE SESSIONS: The ECS now offers, as an option when appropriate, counselling by video/phone link rather than, necessarily, in-person. This option can be discussed at the initial inquiry as well as during the initial consultation.
OUR COUNSELLING ROOM: The room has been refurbished and refurnished, offering a relaxed and private environment for clients and counselors alike.
PARKING AT THE CHURCH: Please note that the Car Park at the church is NOT available for the Counselling service. Vehicle owners may be fined when parking without permission.
Parking is in the Ashley Centre car park or Town Hall car park (accessed via Dulshott Green and Church Road) and both about five minutes walk away.
Epsom Counselling Service in the community
Epsom Mental Health Week
The Epsom Counselling Service is proud to be associated and participate in the Epsom Mental Health Week.
This community information event runs annually every October    http://www.epsommentalhealthweek.org.uk/ – find out more on our philosophy page.
Surrey County Council Library Services
The ECS, working in association with Surrey County Council Library Services, promotes  health and mental well-being throughout the Epsom community. Supporting and promoting events in the area – find out more on our philosophy page.